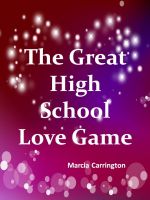 The Great High School Love Game by Marcia Carrington
What do you remember of high school romance? Is it the fear the one you love  would never take you? Adoration and contentment shared with the person you most desire? Or is it a more sinister plot of carefully fixing events to show that your rivals are in the wrong.
If even the most clear-sighted of the 6 main characters hasn't yet a clue of exactly what has actually occurred,is there any hope that the two more prone to action can weather the semi-intentional misunderstandings  that arise without a physical fight?
Jake and Amy love each other. Francine and Chad would love this couple to split up so they can have the one they love. Carrie and James watch from the sidelines, wanting the best for their friends….
Believable,understandable,intense enough you gotta see how it ends.